Spending time to make an introduction is very important because it is the first thing the audience will see in your video. A good intro is no longer than 20 seconds and has minimal text or voiceovers. However, with such a short amount of time, it needs to convey what the video is all about. It should also contain your logo to help people recognize and remember your product. Listed in this article are some free intro makers online that can help you make your introduction more stylish and attractive to viewers.
Desktop program
Online tool
Free service
Android app
iOS app
Top 2 Free Intro Makers No Watermark on PC
BeeCut
BeeCut is a video editing application that allows you to make videos with high-definition quality for different purposes such as marketing strategies, video materials for class discussion, overviews or demonstrations for a certain product, and a lot more. Moreover, this excellent application is also a free intro maker, which contains a lot of wonderful templates that you can use on your video clips. This program also offers options like filters, transitions, texts, cropping, and trimming tools to edit and design your video. To use this awesome program, follow the steps below.
Download and install the program on your PC or just open the online version.
Download
Under the "Text" tab, choose from among the five opening templates you wish to use, then drag it to your timeline.


Click the template on the timeline, then click the "Pencil" icon to edit text. Choose the style and input font, size, type, alignment, color, then click "OK".


Click the "Export" icon and type the file name, select a format, and choose where you want to save your video clip. Then hit the "Export" button below to save.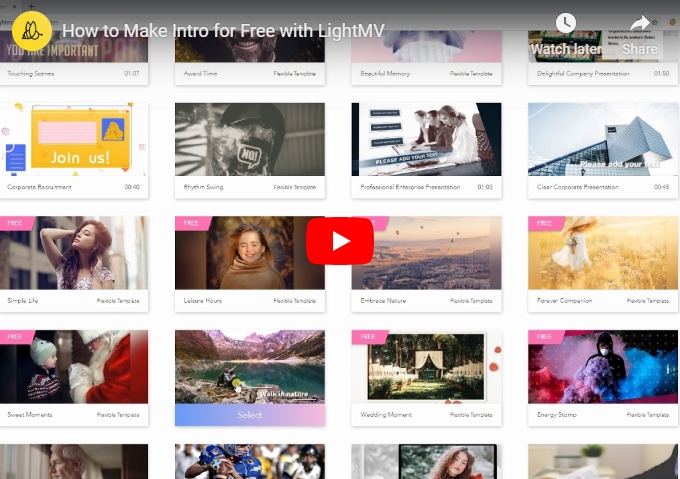 Panzoid
Panzoid is a free intro maker with no watermark that helps you create animated introductions. It was first made available in January 2012 to provide tools for creating and customizing introductions for videos. It contains Community Templates that were created by other users. To start using Panzoid, follow the instruction below.
Visit the official page of the program.
Go to the "Creations" tab and choose from the given animations.
Click "Open in Clipmaker" at the upper part of the program.


Create your outro video using the basic settings, object, scene, effects, camera animation, and audio track.


Once finished, click "Download" then hit the "Start video render" button to save your video.

LightMV
LightMV is a free video making tool that can help you create a high-quality video from photos in minutes. This online application is packed with several free video intro templates with various effects that you can use to enhance your video. Moreover, this tool does not require any registration and you can watch the output video without a watermark. Below is the step-by-step procedure on how to use this wonderful tool.
Go to its official website through this link.
Click the "Get Started" button. From here, choose the template that you wish to use by clicking the "Select" button or preview by clicking the "Play" button before selecting.


Upload the photos you are going to animate by clicking the "Upload" button or just drag them inside the box of the interface. Input your opening and ending texts.


Lastly, click the "Produce" button to process your video. Click the "Play" button to preview your video.

Intro Maker for YouTube
Intro Maker for YouTube is a very popular and powerful intro creator that allows you to make intros or outros for YouTube videos in just a few minutes. It has thousands of cool intro templates covering various themes including game, birthday, nature, etc., and styles like a glitch, 3D, cartoon, and more. Moreover, it offers you more than one hundred royalty-free music and no copyright sound effects. To make an intro with this app, please follow the simple guide.
Start to download and install this intro maker from Google Play Store.
Choose your favorite template from its library. Customize the text by editing its font, design, and animation. Choose the most appropriate sound from its music library based on your video theme.


Preview the video and then save it on your device.
Intro Music Video, Movie Maker
If you are an iOS user, you may use Intro Music Video, Movie Maker to create professional-quality intros for adding to your movie. It comes with lots of gorgeous intro templates that include even all kinds of themes. You can add awesome text or transitions to your video. Please note that you can use it for 3-day free trial. Here is the quick guide for using this app.
Please search for this app in App Store on your device and then download it.
After installing it, open the app. Choose a template you like and then set the text. You can add music from its library or record your own voice.


Save the video at last. You can find your work in the camera roll.
Conclusion
These free intro maker programs will help you achieve the best style for your videos without any watermark. Aside from being free, they also come with pre-made templates that help you make attractive introductions for your clips. For the best intro maker, LightMV is highly recommended because it is easy to use with lots of updated templates to choose from and does not require you to download an application. On the other hand, aside from having templates for introduction, BeeCut is also recommended for making and editing videos due to its variety of filters and effects. You may choose among these tools to see which one of them suits you best.